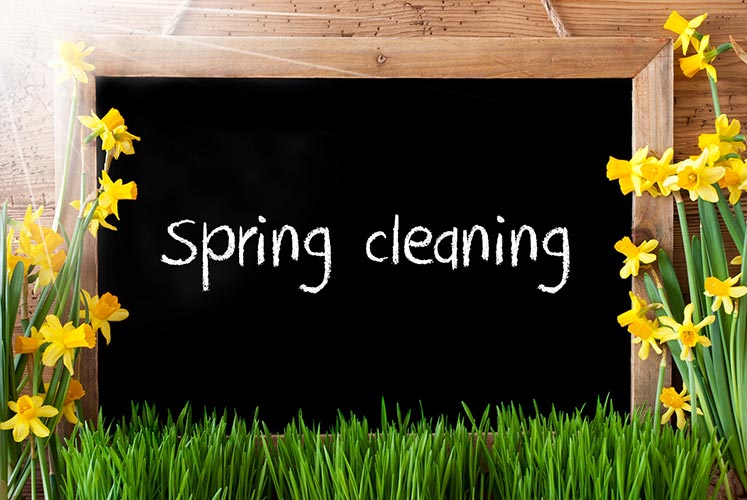 Spring cleaning is a tradition that allows us to freshen up our homes and get a head start on the hectic seasons of spring and summer.
As the signs of spring make their first appearances in nature, it is time to pay tribute to the joy and jubilance of the season. It's also time to wake up your home with a new, modern and fresh look.
Here are a few tips to help cheer up your home this spring:
1. Organize, clean and de-clutter
Spring decorating begins with cleaning and de-cluttering. Extra clutter and crowding in your home décor can drain your energy. Remove any forgotten autumn, winter, Christmas and Valentine decorations and pack them away. Clean and polish surfaces including shelves, tabletops, end tables and countertops. The goal is to lighten and brighten up the appearance of the areas you want to redecorate. Clean your windows and open them up to air out the staleness left by seasons of hibernation and closure. You want to bring the outside in.
2. Rearrange furniture
Start to change the feel of your home, or a specific room or two, by bringing in some very simple key elements to modify your surroundings. Your aim is to change from cold and closed in colder seasons, to warm, fresh air and brighter for the spring season. It is both a change of season and a change of mood.
Most of your furniture has probably been in the same position for years. Simply switching the placement of a couch, or repositioning the TV can make you feel like you have a whole new room. If you don't have much room for movement, change and update the smaller things, like pillows, throws, and lamps. Remember, even a small change will do you good and help brighten up your home.
Informal table settings are on the menu for spring's more relaxed approach to entertaining. Lose heavy tablecloths for casual placemats, and experiment with colour by mixing and matching dishware in pretty patterns. Simple things like changing throw pillows on chairs and couches, to brighten the furniture and room, can put new spots of colour throughout the room.
3. Give your home a new feel
Nothing brings the feel of spring in like the colours and textures of the season. Keep a spring garden in mind and pick the colours and flowers you like the most from the spring garden colour palette. Choose the ones that look best with your overall colour schemes that are already in place.
And, nothing says spring more than fresh flowers. Make sure to be consistent with creating arrangements. Choose a colour scheme, like all white, instead of mixing bouquets. Use the same type of flower in one glass container with a beautiful white satin or grosgrain ribbon wrapped around it.
Make your home sing by introducing some pretty, spring colours and textures and get happy. The infusion of brighter colours and fresh flowers and plants reinforce your seasonal changes and give your home a new relaxing look and feel.
4. Brighten up your rooms
New, updated window treatments can make one of the most profound changes to the look and feel of a room. With spring in the air, you want to maximize the natural light that flows into your rooms. Choose something light and airy, like a soft drapery or a sheer window shading. If you are worried about privacy, you can place room-darkening blinds that you can adjust for a look and feel that is tailored to your unique needs. In addition, sunscreen window shades are especially popular options that will prepare your home for the glare of the sun and the heat of the upcoming summer.
5. Think outside the home
After winter has left its cold and dingy mark, the outside of your home will also need some touching up. Be sure to wash the doors and windows, and touch up the paint if necessary. Hang a wreath of silk spring flowers, or place real potted plants on your porch!
Hopefully, these tips will help inspire you to refresh your home for spring without spending too much money.